KISS ME WHEN YOU DANCE
CLICK HERE DOWNLOAD THIS RECORD FROM THE INTERNET ARCHIVE!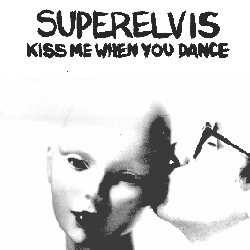 Triquinoise. TQ 007 LP. Released november 1991.

Side A: LUCY

1. Lucy
2. Diamond River
3. Kaleidoscope Eyes
4. She's Gone
5. Song For A Dancer

Side B: LOVE SONGS

1. Starting Song
2. Sad Song
3. Squeaking Song
4. Unsettled Song
5. Urgent Song
6. Terminal Song
---
BILLBOARD (USA) (june 1992)
Superelvis, a three-piece group that defines its sound as "resistance emotional music", recently won the prestigious Barcelona Biennal, a rock competition held by Barcelona City hall to find the best new local talent. The group's extraordinary album, Kiss Me When You Dance, released on the tiny Madrid-based indie label Triquinoise, has provoked critics if not the pop masses. The band has completely stripped down classic songs by such acts as the Beatles, Lightnin' Hopkins, Neil Young, Elvis Costello, and Elvis Presley. According to band leader Anki Toner, "They are not versions but restructured forms". Side one of the album consists of five "restructured forms" of "Lucy In The Sky With Diamonds", sung in English with additional lyrics by Toner and rendered with a minimalist sound that is simultaneously soporific, challenging and disturbing.
Howell Llewellyn

---

Back to Superelvis home page

Volver a la página principal de Superelvis