HAPPINESS IS STUPID
CLICK HERE DOWNLOAD THIS RECORD FROM THE INTERNET ARCHIVE!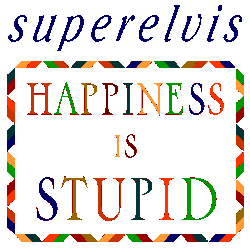 Por Caridad Producciones. PCP 018 CD. Released december 1996.
Awarded BEST SPANISH RECORD OF THE YEAR 1996, by magazine ROCK DE LUX

1. A War
2. True Little Baby
3. Confusion
4. Hurt Forever
5. Choose
6. Different Moments
7. A Place
8. Can't Help
9. Confession
10. Dark Moon
11. Day I Die
12. A War
13. On The Other Side Of Love
14. Hope
15. Happiness Is Stupid

Lyrics

---
Album made by Anki Toner, Meteo Giráldez, Raimon Aymerich & Alfredo Costa Monteiro.
Featuring (in order of appearance): Javier Colis, Juan Crek, Jakob Draminsky Hojmark, Mark Cunningham, nuara, Javier Piñango, Pascal Comelade & Mª José Peña.
Music by Superelvis.
Lyrics by Anki Toner, except "Different Moments", by Anki Toner-nuara.
"A War": lyrics after Leonard Cohen's "There Is A War"
"True Little Baby": lyrics after Willie Dixon's "My Babe"
"Can't Help": lyrics after Peretti/Creatore/Weiss' "Can't Help Falling In Love With You"
"On The Other Side Of Love: lyrics after Marianne Faithfull's "Guilt"
---
Fragments of the following tunes can be heard at different moments in this CD:
Atlantis (Donovan Leitch)
Flying (Harrison-Lennon-McCartney-Starkey)
Je t'aime, moi non plus (Serge Gainsbourg)
Kimi Ga Yo (Japanese anthem)
Le manine di primavera (Nino Rota)
Life On Mars (David Bowie)
Mission: Impossible (Lalo Schiffrin)
Sesame Street (Joe Raposo)
The Twilight Zone (Marius Constant)
With A Little help From My Friends (Lennon-McCartney)
You'll Never Walk Alone (Rodgers-Hammerstein II)
If you detect all (or most) of them, send a message stating track number & timer position of the beginning of the fragments. Good approximations will receive presents. (*)
---
Recorded and mixed by Superelvis at Lie/Doubt Area, Barcelona, between february & october 1996. Mastered by Pere Boada at R.S.Estudi, Barcelona.
Artwork by Meteo Giráldez.
SPECIAL THANKS: Anton Ignorant, Markuss A. Breuss, David Rodríguez Ponce, Marc Saura, Mabel Palacín, Tania Peris Roux.
ADDITIONAL THANKS: Juanjo Zambrano, Jesús Ordovás, Carlos Solans, Quim Casas, Andrés Noarde, Conchi López, Gregorio Soria, Ignasi Alvarez & Instruments Musicals Fusté, Multisounds Mobile Studio.
Kisses to Dudu.
---
ROCK DE LUX
¿Jazz para desamparados? ¿Folk for freaks? Sólo Superelvis. Al trío barcelonés -ahora cuarteto con la incorporación de Alfredo Costa Monteiro- le pertenece un capítulo exclusivo en el raquítico underground español, una zona de "canciones equivocadas" que es necesario -obligado- visitar con frecuencia para no morir asfixiado en los límites cada vez más estrechos de indieland.
Superelvis siempre han sido maestros en el escurridizo juego de la evocación. Con los mínimos elementos -sus textos se reducen a lo esencial- saben cómo despertar memorias adormecidas y quitarle el polvo a los eternos temas del amor, la muerte, el sexo y el tiempo.
Jugando traviesamente con la historia del rock -sus legendarias versiones, sus contínuos "samples mentales": premio (de verdad) para quien identifique aquí citas que van de los Beatles a Nino Rota, de Bowie al himno japonés, de "Barrio Sésamo a Serge Gainsbourg-, Anki Toner, Meteo Giráldez y Raimon Aymerich montan un laberinto musical que no remite a nada ni a nadie de estas latitudes (de otras, más lejanas, se aprecian sombras, siempre difusas, de Tom Waits, Paolo Conte o Cohen).
La justa medida, en un viaje de apariencias y recuerdos, es el elemento fundamental que permite que una obra de arte esquive lo pretencioso y muestre su esencialidad. Superelvis lo han logrado con "Happiness Is Stupid", su álbum más sereno y hermoso, abierto a un aura de atemporalidad que se engrandece con cada escucha.
La voz grave, casi ceremonial, de Toner, desgrana sus "mentiras necesarias" entre partituras que conocen el secreto de que menos es más, mientras el acordeón omnipresente de Costa, un acierto incuestionable, impregna todo el recorrido de ternura arrabalera y realismo poético, soundtrack perfecto para un cruce de imágenes entre Marcel Carné y el Jean Eustache de "La maman et la putain". La trompeta bakeriana del gran Mark Cunningham en la monumental "Hope", la orgía de vientos -Nyman meets Art Ensemble Of Chicago en la "Dimensión desconocida"- de "Different Moments", los parásitos que invaden -y dan forma- a "Choose" y "Day I Die" o el piano obsesivo de "Confession" son varias -pero sólo algunas: hay que perderse en este laberinto del deseo- de las muchas razones que demuestran que veinte docenas de fans de Superelvis no pueden estar equivocados. Y ahora menos que nunca. Juan Cervera

---
Back to Superelvis home page
Volver a la página principal de Superelvis