HAVING FUN ON STAGE

CLICK HERE DOWNLOAD THIS RECORD FROM THE INTERNET ARCHIVE!

Back to Superelvis home page
Volver a la página principal de Superelvis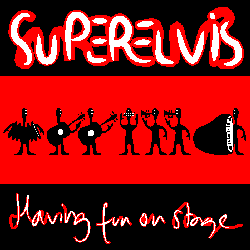 (CD, Por Caridad Prod., released february 1998)

Well, at last a live recording! It was about time to narrow the gap between our absolutely unrehearsed shows and our carefully produced albums. Or was it the other way round?
So we gathered a bunch of friends, some who had played with us before, some who had not. That was during our 1995 summer tour (yes, it has taken two years to have it released: part our fault, part the rest of the world's). There we were, seven angry men trying to make it happen:

Anki Toner
Vocals, harmonica.
Founder member of the band.

Meteo Giráldez
Guitar, additional piano.
Founder member of the band.
Was playing guitar, but kept fingering the piano from time to time.

Raimon Aymerich
Piano.
Founder member of the band.

Alfredo Costa Monteiro
Accordion.
Now a full-member of the band.
We just had met him three weeks before when we made this recording.

Mark Cunningham
Trumpet.
Had been playing with Superelvis for the last years two years and a half.

Markuss Breuss
Trumpet, flugelhorn, noises.
First time he played with us. Not the last one.
Had invited us all for dinner the night before.


Anton Ignorant
Guitar, noises.
Rare collaboration. That was his second gig with us.
He hasn't done many more for the moment, but we hope he will.

---
The title: Why?
Well, "Superelvis Live" seemed kinda poor to us, and too rock-oriented, maybe. "Superelvis On Tour" was not a solution, obviously. Besides, have you ever heard of that Elvis Presley (Him, the King) LP?:
ELVIS PRESLEY. Having Fun With Elvis On Stage (RCA 0818, 1974)
[...] The worst by far is Having Fun On Stage, two sides of tape-recorded byplay -bad jokes and about 10.000 requests for a glass of water. (Dave Marsh, The Rolling Stone Record Guide, 1979)

Most to avoid: Having Fun With Elvis On Stage, an album consisting of nothing more than the star's on stage wisecracks. (Dave Marsh, The Rolling Stone Album Guide, 1992)

[...] the bizarre Having Fun With Elvis On Stage, which consisted of the King saying "Well... wellll... wellllll" for thirty seven minutes (Greil Marcus, Mystery Train)

---